The Walden Group Releases Interim Healthcare Industry Report
The Walden Group is pleased to provide access to an Interim Healthcare Industry Report providing a window into how the healthcare industry is taking steps to resume some semblance of normality. It discusses how medical practices and hospitals are carefully opening up, compliant with Covid-19 safety guidelines.
It unpacks the effect of the pandemic on various clinical areas: General Surgery, Hospital Supplies, In Vitro Diagnostics, Ophthalmics, Orthopedics, and Woundcare.
It provides several insightful data tables profiling the recent stock market performance of key Medtech companies, their YOY revenue performance and key explanations underlying their stock prices.  Similar data is provided for Covid-related companies.
It also reports on selective M&A, financing and strategic transactions announced in the past few weeks.
The Report is structured as follows:
    COVID-19's Impact on Medtech and Non-COVID Procedures.
    Performance Analytics for Top Medtech Companies
    Performance Analytics for COVID-19 Oriented Companies
    Selective M&A, Financing and Strategic Alliance Activity for May 2020
Click here to download the Report.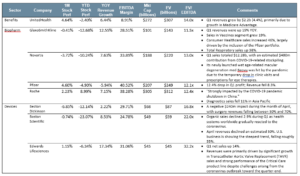 The Walden Group, Inc.
560 White Plains Rd, Tarrytown, NY 10591
914 332 9700 / efax 914 303 5043